In October 2017, Woodlands Garden was awarded a $25,000 grant from The Imlay Foundation towards its streambed restoration project. The Imlay Foundation is a private charitable foundation established in 1990 by John P. Imlay Jr., the late Atlanta-based entrepreneur and philanthropist, to support charitable and cultural organizations within Atlanta and Scotland.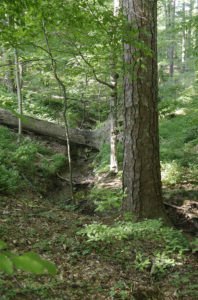 Woodlands sought funds to stabilize the banks of Morse Creek, a tributary of the Chattahoochee River that runs through the Garden. In March this year, the Garden hired Ecological Solutions Inc., a natural resources consulting firm, to assess the site and create a plan to repair the damage to the creek and surrounding area. Their report showed that erosion and poor storm water management upstream have compromised the creek's water and banks over time.
The Imlay Foundation's grant will be used to purchase stream restoration materials, including root wads, boulders, and plants, among other materials. Mary Ellen Imlay, Board Chairman of The Imlay Foundation, said, "The Imlay Foundation is pleased to continue its support for Woodlands Garden with a grant for the Morse Creek streambed restoration project. As a native of Decatur and a friend of the Morse family, I am delighted that Woodlands Garden is working hard to preserve this beautiful natural oasis in the middle of a rapidly developing area of Metro Atlanta."
Woodlands will be engaging the community to help complete the restoration work so sign up today to join the volunteer effort. The Morse Creek restoration project continues Woodlands' ongoing work to preserve its Piedmont forest and engage the broader Atlanta community in the natural world.
Follow in the footsteps of the Imlay Foundation by donating to Woodlands to support garden projects and programs in this community greenspace by visiting http://www.woodlandsgarden.org/donations/.
Decatur Focus published a version of this article in their December 2017 issue (pg 16). You can read it here: http://www.decaturga.com/home/showdocument?id=11007