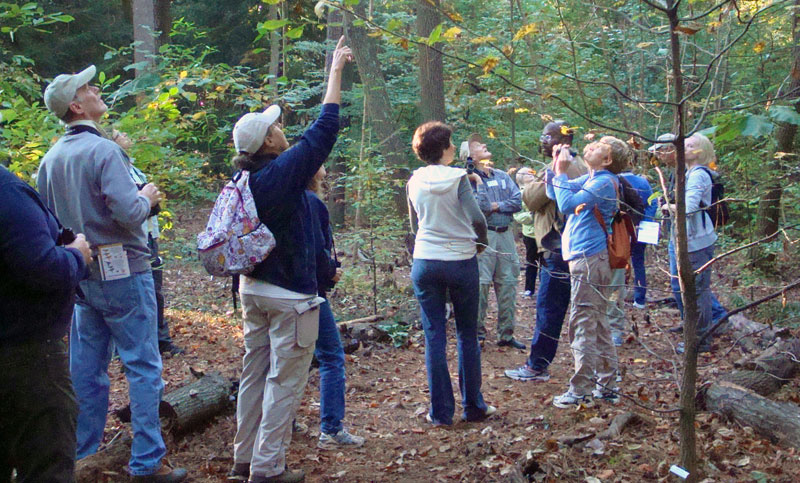 How do I get to Woodlands?
Walk, bike or drive: Get map and directions here.
Take public transportation:
---
Parking
ONSITE there are 17 parking spaces plus two handicapped spaces.  NOTE – during office hours we can use our golf cart to assist visitors with mobility problems.
OFFSITE (for special events) see map of three options, all within 1/2 mile of Woodlands, here.
---
When can I visit?
Woodlands Garden is open during daylight hours, seven days a week.
Office hours: The office is generally open between 9 am and 4 pm on weekdays. Please call ahead if you'd like to speak with the staff during your visit (404-373-2222).
There are many special events at Woodlands, so check the calendar for details on weekend activities.
---
Where are the restrooms?
Available at the main office.
---
May I bring my dog?
No, please leave your dog at home unless you have an assistance animal.
---
Are there guided tours?
You may tour Woodlands Garden on your own, or arrange a tour with a staff person or volunteer.
To arrange a guided tour, contact our Garden Manager at 404-373-2222 or garden@woodlandsgarden.org. A donation to Woodlands is requested to assist with maintenance of the Garden and suggested instead of payment for a staff-led tour.
Self-guided tour options, all available in the kiosk –
Student guide written for upper elementary students
Detailed self-guided tour card
Garden Go Seek! scavenger hunt booklet introducing kids to eight greenspaces around Decatur
Can I bring a group to Woodlands?
Woodlands welcomes groups who seek an urban sanctuary which engages and educates the community in the natural world. Preschools, summer camps, elementary through high school classes and college botany classes have come to Woodlands to learn. We have hosted prayer groups, t'ai chi classes, staff retreats, garden clubs, birdwatchers and a picnic of the Jane Austen society.
More information on Private Event Rental here.
Can I host an event at Woodlands?
Many friends have marked birthdays, graduations, weddings, religious holidays and memorial services at Woodlands.
The outdoor amphitheater is always available at no charge we just ask that you contact Garden staff to arrange the reservation of this space (director@woodlandsgarden.org).
More information on Private Event Rental here such as showers, business meetings, or exclusive use of the Garden for weddings.
---
Why come to Woodlands?
Woodlands Garden serves nature lovers, gardeners, native plant enthusiasts, students, families and educators. On Sundays spring through fall, volunteer musicians perform and volunteer guides answer questions. Native crossvine, passionflower and partridgeberry flourish here. Visitors admire three champion trees: bigleaf magnolia, cucumber magnolia, and devil's walking stick. Camellia lovers learn air-layering propagation and native plant enthusiasts find ideas for their own shady gardens. Neighbors enjoy a leafy respite from their busy lives. Garden visitors appreciate the comprehensive work of botanists and volunteer gardeners to label the flowers, shrubs and trees.
City Schools of Decatur fourth graders come to Woodlands to learn about Georgia flora and fauna, especially those in the Georgia Piedmont, meeting several Georgia Science Standards. Skyland Trail Art Therapy students create miniature fairy houses for our signature fall event, "Fairies in the Garden." Georgia State plant biology students return every semester for fieldwork. Community groups find many ways to enjoy Woodlands: Yoga, Qi Gong and Tai C'hi classes, Jane Austen Society picnics, Eagle Scout projects, and nature photography workshops.
More than 300 people volunteer each year for activities ranging from removing invasive plants and installing and tending native plants to hosting public events, making policy, raising funds and planning educational activities. In 2013, volunteers provided almost 3,000 hours of essential service to the community.
---
What plants and trees will I find at Woodlands?
Woodlands Garden boasts several collections of plants:
Most of the seven-acre site is devoted to plants and trees native to the Georgia Piedmont, a collection unique in north Georgia greenspaces. Woodlands manages this area according to a Master Plan developed in 2004. Since then we have removed invasive plants to allow existing natives to thrive and installed over 400 more native trees, shrubs and perennials.  Woodlands relies on specialized nurseries throughout the Southeast as well as our partners at Trees Atlanta and Georgia Perimeter College Botanical Garden.
The Morse family was especially interested in camellias, and there are several varieties here that appear nowhere else in the Atlanta area.  The area around the family residence site, now an open lawn, is designated the Morse Family Heritage Garden. You will find many specimen Japanese maples, and classic southern spring blooming shrubs such as azaleas, rhododendrons and hydrangeas surround the area. Closer to the ground, large swaths of astilbes, hostas, hellebores and ferns complement the setting.
---
I'm a photographer. Can I use Woodlands for photo shoots?
We hope you will capture your favorite images of Woodlands with photos for your personal use. However, photographs of plants, trees, etc. taken at Woodlands should not be sold without our prior permission.
Professional photographers may hold sittings (e.g. family or wedding portraits) at Woodlands.  We would appreciate a donation in the range of $75. Contact director@woodlandsgarden.org with questions.