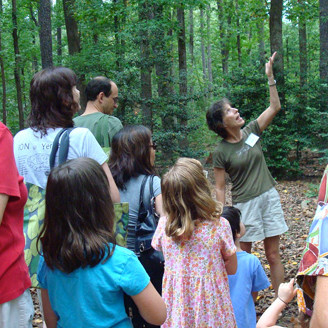 Education
You and your friends or students can learn about nature at Woodlands in a variety of ways.  Our favorite is simply walking the trails.
Partner organizations and schools use Woodlands Garden as a living classroom:
City Schools of Decatur fourth graders come to Woodlands to learn about Georgia flora and fauna, especially those in the Georgia Piedmont, meeting several Georgia Science Standards.
Neighboring Westchester elementary now partners closely with Woodlands, and includes a Woodlands representative on its School Leadership Team.
Preschoolers start volunteering early, with monthly service learning projects.
Georgia State plant biology students return every semester for fieldwork.
YMCA teens adopt areas of Woodlands and construct scavenger hunts for younger children.
Boy Scouts and Girl Scouts complete requirements for badges and for service projects through Eagle and Gold Award levels.
Garden clubs visit and tour our native plant and camellia collections.
Gardening volunteers, from the novice to the master gardener, gather on alternating Wednesdays to work in the garden, conduct workshops for the community and organize field trips to nearby gardens and parks.
To arrange for a group visit, email our Garden Manager at garden@woodlandsgarden.org.
Conducting Classes and Workshops
We invite teachers to enhance their instruction by offering classes at Woodlands.  The teacher collects all fees and pays a rental fee to use the Pavilion.  Yoga, Qi Gong, Tai C'hi, flower arranging and nature photography workshops have been taught in our serene setting. See the Group Reservation Form and Rental Policy here. To arrange to teach a class or workshop at Woodlands, email director@woodlandsgarden.org.
Hosting An Event
Contact Kate Baltzell, the Executive Director or our Garden Manager to inquire about renting Woodlands' screened pavilion for a picnic, staff retreat, birthday party, memorial service, etc. There is more information on our Planning Your Visit page.  See the Group Reservation Form and Rental Policy here.