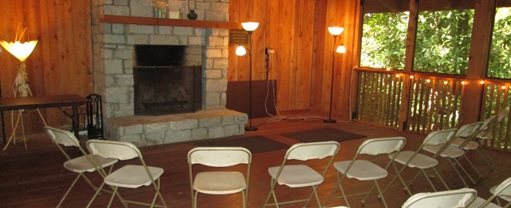 Music events happen at Woodlands Garden throughout the year in a screened pavilion with seating for about 40 people.  There's a ceiling fan for warmer days, and the pavilion's roof and wide eaves provide good protection from rain. We light a fire in the fireplace if there is a chill in the air.
Performances are free to the public and take place rain or shine. Our Sunday Music in the Garden Concert Series takes place on numerous Sundays in the spring, summer and fall between 2 and 4 pm; other music events occur as announced. Our performers are mostly local musicians who may be selling their CDs or have a tip jar. They are donating their time and talents, so if you can, be generous to them.
THE 2017 SCHEDULE WILL START NEXT APRIL.
PREVIOUS PERFORMANCES IN 2016
April 3 – Just Be Cause
Jerry Brunner, Bruce Gilbert and Cyndi Craven are Just Be Cause… just don't ask them why.
Jerry Brunner and Cyndi Craven, long-time members of the Atlanta acoustic/folk music scene, have been performing together since the 1980s. In 2007, they met up with Bruce Gilbert when he moved to Atlanta from California where he'd been wowing the music scene there for years. The music they produce together is the result of profound friendship, heaping helpings of creativity, and decades of playing, singing and writing together and on their own. Their shows have been described by fans as "comfort music" with "three-part harmonies that will roll your socks down." Come hear for yourself!
More at brucegilbertmusic.com and cyndicraven.com
April 10 – John Cable & Lindsay Petsch
John Cable is a veteran musician and a former member of the Nitty Gritty Dirt Band. In 1976, the Dirt Band became the first American band in history to perform in the Soviet Union, and John became the first American to lecture at the Moscow Conservatory of Music on the history of western blues and rock. He has performed on The Tonight Show, Don Kirshner's Rock Concert, The Midnight Special, Austin City Limits, and the Grand Ole Opry and in some of the great concert venues as well, including Wolftrap, Carnegie Hall, and Red Rocks, in addition to Woodlands Garden. He recently appeared with John McEuen and friends at McEuen's birthday bash in Nashville on Music City Roots with Sam Bush, Jerry Douglas, Rhonda Vincent, Bernie Leadon, and David Amram. Here's a link to a review of his recent CD, Broken Knife: http://nodepression.com/album-review/john-cable-offers-life-lessons-worth-remembering
From an early age, Lindsay Petsch expressed a strong interest in the arts, including poetry, painting, and drawing, and music. At the age of five, he began performing with the Atlanta Boy Choir and playing the piano. During his teens, Lindsay's interests turned towards rock music and the guitar, and he studied electric guitar with Sam McPherson at Maple Street Guitars (then Atlanta Guitar Center). He also sang in the Westminster Schools Chorus, Ensemble, and Men's Acapella. In his late teens, Lindsay took an active interest in songwriting and folk guitar styles, slowly and stubbornly cultivating his own approach to the instrument. For over three years, he hosted the String Club songwriters' circle at Java Monkey in Decatur, which he established with his friends Allison Adams and Jimmy Galloway. Apart from private shows, Lindsay has performed in a variety of venues in Atlanta, including the Red Light Cafe, Smith's Olde Bar, Steve's Live Music, WRFG 89.3, and the Grant Park Summer Shade Festival. He draws inspiration from a broad exposure to many genres of music, and strives to compose music that tells a story, both melodically and lyrically.
April 17 – Tucker Station String Band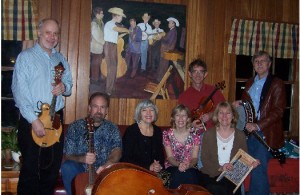 Left to right:
Reuben Fair, Mike Wood, Christie Hand, Kim Fair, John Hunsinger, Vickie Sullivan, and David Hand.
Tucker Station String Band is a group of folks centered in Tucker, Georgia, who love to play music and sing. Originally coming together for fellowship, they discovered a mutual love of bluegrass, newgrass, and old-time music. They also play a few original tunes and bluegrass-flavored popular tunes. Tucker Station plays in and around Northern Georgia at Festivals, private events, and church socials. http://tuckerstation.com/
April 24 – Porch Bottom Boys
Left to right:
Jim Thompson, Steve Gorbatkin, Denis Gainty
The Porch Bottom Boys, a five-piece bluegrass band, proudly hail from Decatur. Their music is based in bluegrass and seasoned with the diverse backgrounds of the band members in jazz, blues, and other styles.
Steve Gorbatkin (vocals, guitar, and harmonica) was born on the south side of Chicago, and his years in the Windy City left an indelible blues-inflected mark on his singing.
Atlanta native Jim Thompson (vocals, fiddle, guitar) spent time living and working in the coal towns of Virginia, and he gives the band its deep bluegrass roots. Jim's style draws on his experiences as a founding member of the Poetown Ramblers near Grundy, Virginia, and playing with bluegrass groups in Nashville.
Denis Gainty (vocals, mandolin) has played various instruments with groups in Boston, New York, and Osaka before joining the Boys. His mandolin style reflects his eclectic musical influences and misspent youth. When not playing around town, Denis is working on the definitive historical treatment of bluegrass music in Japan. Stay tuned!
Whether he's at home in Decatur or spending time in Western Massachusetts, Charlie O'Neill (banjo) brings his five-string wherever he goes. Charlie rounds out the Boys with his tasty licks, and his front porch in Decatur gives the band their name and serves as their home base.
Joel Glogowski (bass) is the newest addition to the Boys. His fancy work on the bass fiddle gives the boys extra snap and oomph and more besides. When not appearing with the Porch Bottom Boys, Joel appears with a number of other fine ensembles, including Caroline and the Ramblers.
May 1 – Rosin Sisters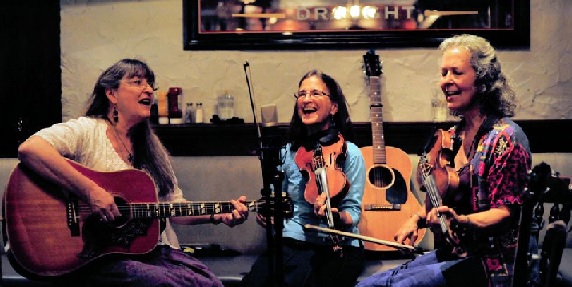 The Rosin Sisters – The Rosin Sisters are Barbara Panter-Connah, Ann Whitley-Singleton, and Jan Smith, three fiddlers who came together to explore their love of the roots music of Appalachia, as well as classic Country, Cajun, Gospel, Honky Tonk, and beyond. Besides their fiddles, Barbara and Ann play guitar, and Jan plays banjo. They all sing and love to harmonize, and have performed at festivals and concerts in the Atlanta area and the Southeast for decades in various bands. They've also recorded three CDs. This is the group's second visit to Woodlands Garden. Their third CD, It's All Your Fault, will be released this spring. (www.rosinsisters.com)
May 15 – Blackfoot Daisy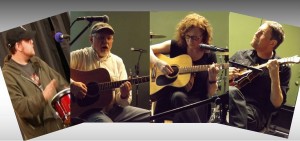 Blackfoot Daisy – the musical group, is an Atlanta-based quartet that plays original Americana-style music. Don Sechelski and Wendy DuMond play guitar, sing, and write songs. Adam Selchelski plays guitar, mandolin, and percussion and sings. Bobby Moore plays fiddle, banjo, and mandolin. They are inspired by the prairie, the wind, the shifting of tall grasses, and the sounds of crickets and lonesome train whistles in the night. This is the group's third appearance at Woodlands Garden. Blackfoot daisy, the plant, is a hardy wildflower that grows on the prairies of Texas, Oklahoma, and New Mexico.
May 22 – Mockingbird's Wing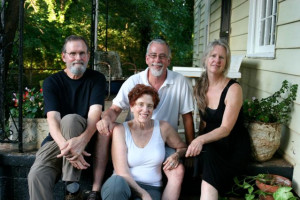 Left to right:
Paul Pendery, Barbara Hotz, Jonathan McBee, Suzy Schultz
Mockingbird's Wing is an organically grown acoustic band made up of four diverse musicians. Like the mockingbird's song, the members' different voices and styles come together in a unique sound.
Barbara Hotz is a singer/songwriter with deep roots in Mexico and a love of the old standards.
Jonathan McBee is a multi-instrumentalist and singer/songwriter out of Chicago. If it's got strings, Jonathan is looking to add it to the Mockingbird sound.
Paul Pendery is a Montana/Alaska/Texas singer/songwriter whose songs evoke soulful stirrings and happy feet.
Suzy Schultz, when she is not at her day job as a full-time artist, adds vocals/flute/cello to the group.
Mockingbird's Wing has been spotted recently at Java Monkey, Common Grounds Coffee House, Heron House, The Bloom Art Center in St. Petersburg, Fla., and the Oakhurst Porchfest, but they tell us their favorite place to land is Woodlands Garden.
June 5 – Sunday Songwriters Circle
A group of local singer-songwriters gathers to play original material in a writer-in-the-round format. Listeners are welcome.
June 26 – Radio Ramblers
The Radio Ramblers are perennial favorites at Woodlands and have been part of the Sunday concert series for the past seven years. They play a unique blend of country blues, Piedmont-style music, and Chicago blues. Formed ten years ago, founding members were Joe "Pigiron" Shifalo, Alton Leonard, and Michael Ellis. Pigiron was called home in 2011, but Alton and Michael have continued to perform and tour. In the last year, they have begun performing many more of Alton's original songs.
July 17 – Sunday Songwriters Circle
A group of local singer-songwriters gathers to play original material in a writer-in-the-round format. Listeners are welcome.
July 31 – In the Wheelhouse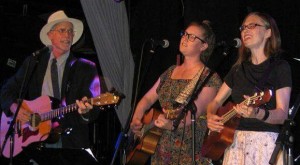 In the Wheelhouse began in 2010 when Tomas Valenti needed an impromptu stringband for a square dance and asked fiddler Tara Vogt and banjo player Walter Harris to help out. They discovered a shared love of music that went beyond the traditional fiddle tunes they played for the dance. Guitarist-singer Sarah Wishon joined the group later, adding a velvety quality to their harmonies. The group's most recent addition, multi-instrumentalist virtuoso Steve Schaaf, completes the sound. Their repertoire includes an eclectic blend of traditional and popular songs from a broad range of styles—from old country, gospel and blues tunes to the Beatles with a dash of bluegrass. In the Wheelhouse entertains audiences with tight harmonies, unique arrangements, stale banjo jokes, and upbeat fiddle tunes, swapping lead vocals as well as instruments along the way. They'll be joined at Woodlands by percussionist Mason Bumgarner. facebook.com/inthewheelhouse
August 7 – Sunday Songwriters Circle
A group of local singer-songwriters gathers to play original material in a writer-in-the-round format. Listeners are welcome.
August 28 – Garden Fresh Pickers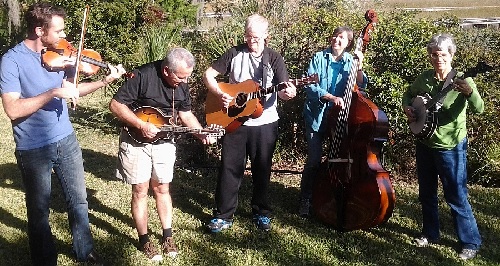 The Garden Fresh Pickers are a five-member bluegrass group whose members are Keith Caldwell (guitar), Annie Godfrey (banjo), Brendan Held (fiddle), Beth Stevenson (bass), and Mike Nugent (who also plays in the band Hicks with Picks, mandolin). The quintet has been playing together for over two years; cumulatively, the Garden Fresh Pickers have over 100 years of musical experience. This is their fourth appearance at Woodlands Garden.
September 11 – Sunday Songwriters Circle
A group of local singer-songwriters gathers to play original material in a writer-in-the-round format. Listeners are welcome.
September 25 – Libby Eason & David Gibson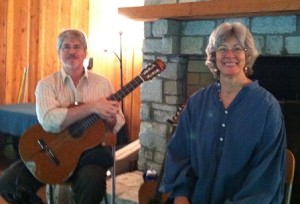 David Gibson & Libby Eason
Accomplished singer-songwriters and Indie recording artists, Libby Eason and David Gibson together bring a soulful blend of original compositions ranging from raucous blues to smooth ragtime-inspired folk and full-on country grooves, all told from their unique, sometimes slightly tilted perspectives. Travel with them through a half century of musical experience and enjoy some heartfelt homemade acoustic music.
October 2 – George Eckard & Don Fay

| | |
| --- | --- |
| | |
| Don Fay | George Eckard |
Don Fay, now retired from the Kennesaw State English Department, began writing songs in 2001 and has performed with the Unusual Suspects singer songwriter group since 2002. He plays guitar and resonator guitar, and in the last two years has taken up clawhammer banjo.
George Eckard is a Decatur area singer-songwriter who, like Don Fay, is an alumni of the Unusual Suspects. George plays guitar, mandolin, banjo, and harmonica. He is also co-host of the Woodlands Sundays in the Garden concert series with his wife, Phyllis Mueller.
October 9 – Ben Wakeman
Ben Wakeman
About Ben – Singer-songwriter and guitarist Ben Wakeman is a veteran of the Atlanta acoustic music scene. He has released five CDs to date and, over the years, collaborated and shared the stage with artists like John Mayer, Sugarland, Gillian Welch, and Shawn Mullins. Recently Ben published his debut novel, Rewind, Playback, a powerful, emotional story with music at its heart. (www.benwakeman.com)
October 16 – Allison Adams & Heidi Pollyea
| | |
| --- | --- |
| | |
| Allison Adams | Heidi Pollyea |
About Allison – Multi-instrumentalist and singer-songwriter Allison Adams has been making music on Atlanta's acoustic scene for more than a decade. Her recent CD, Songs from the Garden, includes original tunes inspired by the flora and fauna of her Decatur backyard. (www.allisonadamsmusic.com)
About Heidi – Singer/songwriter Heidi Pollyea describes her music as "funky folk." She performs on both piano and guitar and is influenced by jazz, gospel, pop, R&B and country. Heidi's most recent CD, Best (of) Friends, combines her varied musical styles with poignant lyrics and tongue-in-cheek humor. A dedicated pet owner and animal welfare advocate, Heidi often writes about dogs that are near and dear to her heart. The proceeds from her single "Lemme Offa This Chain" are earmarked for animal charities and causes. (heidipollyea.com)
October 23 – Ukulele Society of Decatur
The Ukulele Society of Decatur consists of four members who have been playing music together in various groups in the Atlanta area for over 25 years. They are John Anderson (ukulele and harmonica), Lynda Anderson (ukulele, lead vocals), Doug Allison (guitar, baritone ukulele) and Pete Senkowski (bass, ukulele bass, tuba).
Their goal is to perform all kinds of music on that most versatile instrument – the ukulele. The group enjoys playing Hawaiian melodies and popular standards, country tunes, folk music, and sing-along numbers. They perform in a number of local venues, including senior residences and neighborhood farmer's markets. We are pleased to welcome the Ukulele Society of Decatur back to Woodlands for another concert in 2016.
October 30 – Songwriters Showcase with Charles Absher, Frank Brannon,
Ashley Filip, and Terri & Alan Thornton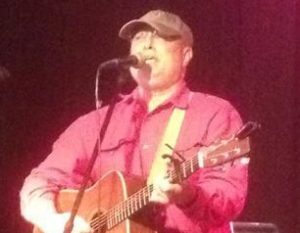 Charles Absher was a bluegrass musician in high school and as a young adult, including a four-year stint with the bluegrass band at Six Flags Over Georgia, and afterward with other groups in the 1970s. He now has a small library of original songs, and he continues to write, sing, and play primarily as a creative release from the everyday stress of his engineering profession.
www.reverbnation.com/charlesabsher


Frank Brannon recently recorded an album, Dance on the Wind, produced by Nashville's Thomm Jutz that has been played in the US and Canada and overseas. Frank has been playing his music for over a decade, and his songs are vignettes that reflect his experiences. "Flannery's Waltz," a song about his cousin, the author Flannery O'Connor, was used in a documentary about her.
http://www.Frankbrannonmusic.com
Ashley Filip is an Atlanta singer-songwriter who has been performing since she was 14, performing at venues including Eddie's Attic and the Hard Rock Cafe. Ashley's songs are stories of family, spirituality, and relationships. She counts as influences the story-telling tradition of country and the music of Aretha Franklin, Alison Krauss, Marvin Gaye, Joni Mitchell and Shawn Colvin.
See more at: https://myspace.com/ashleyfilip.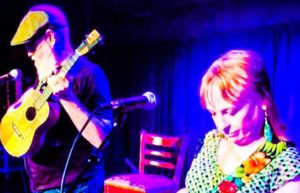 Terri and Alan Thornton, collectively known as the Throckmorton Ukulele Band, first played music together in the early 1970s. They play in the area at multiple venues each month. Lately, they have been invited to play for Art On the Beltline, the Oakhurst Porchfest, and the Great Northern Ukulele Festival in Northern England, which will feature their work as songwriters for the ukulele.
https://m.facebook.com/Throckmorton-Ukulele-Band-635281549906943/