The fairies are coming to Woodlands Garden!
Woodlands is pleased to partner with Skyland Trail for the seventh annual 'Fairies in the Garden' celebration. Skyland Trail artists will tuck intricate tiny houses here and there in the woods, just for you to find. This year's Fairy Celebration will include story time provided by The Little Shop of Stories, art workshops, temporary tattoos, music, and the ever-popular 'Grand Summoning of the Fairies' followed by the trail parade.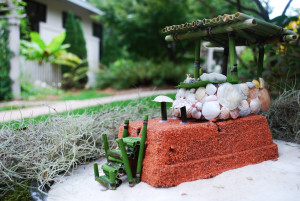 Discover tiny fairy dwellings built from bark, twigs, branches, seed heads, leaves and other natural materials, tucked in sheltered nooks along the garden's paths. Colonies will include root fairies, stump fairies, fortress fairies, moss fairies … and of course trolls under the bridge. We'll give you hints to help you find them!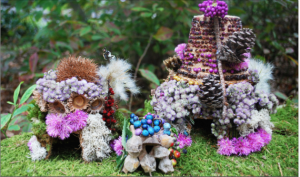 Date: October 7, 2017
Time: 2:00 pm to 4:30 pm
Venue: 932 Scott Boulevard, Decatur, GA 30030
Cost: Free, we just ask that you PLEASE park off-site
Costume: Yes, please!
Driving & Parking Directions
Off-site parking required for this event. Parking map of below locations available here.
Parking Option 1: BB&T Bank at 1221 Clairemont Ave, Decatur, GA 30030
Directions to BB&T

Parking Option 2: Westchester Elementary at 758 Scott Blvd, Decatur, GA 30030
Directions to Westchester Elementary
Parking for guests with special needs is available on site.
Special thanks to our friends at Skyland Trail for all the help they put in to making this event a success!  Woodlands Garden and Fairies thank you all.

Sponsors supporting Fairies in the Garden (list coming soon!):