There are many ways to get involved with Woodlands Garden!
More than 300 people volunteer each year for activities ranging from removing invasive plants and installing and tending native plants to hosting public events, making policy, raising funds and planning educational activities. In 2013, volunteers provided nearly 3,000 hours of essential service to the community.
There are many ways to be part of the beauty and excitement of Woodlands Garden, from office work to gardening to hosting. Please complete this online application. We'd appreciate your help in the areas listed below.
Ways to Volunteer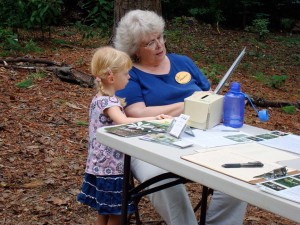 For the Garden: 
If you are interested in any of the opportunities below, please email the Garden Manager:   info@woodlandsgarden.org or call 404-373-2222

Plant record-keeping (bloom report, plant inventory, plant labels)
Gardening – planting, weeding, watering, pruning
Tool maintenance
Golf cart maintenance
For the Office and the Organization:
Facilities maintenance

We can also use help with indoor tasks like sorting our extensive catalog of garden images…

Administration
Tech support
Writing / editing
Fundraising
Board membership
Bookkeeping
Publicity / marketing
For Visitors:
Leading tours for organizations and school groups
Social media
Event planning
Hosting concerts and other events
Environmental education
We are eager to meet you and put you to work! Please take a moment to tell us about your interests and availability on a brief form you can find here.
Feel free to contact with questions here: info@woodlandsgarden.org